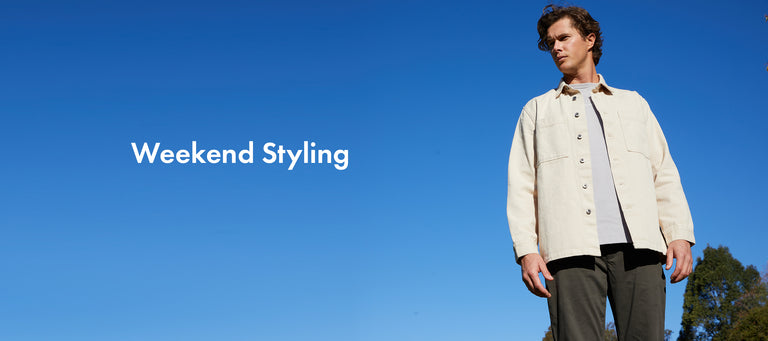 Weekend Styling
Posted by Jintao Du on
Switch off your computers and put down your tools. The weekend has arrived and we want to make sure you spend it in style. Give your plain tee and favourite jeans a rest this season; it's time to push your comfort and personality to the forefront. While these pieces are essential to a well-rounded wardrobe, we have a few staple items we think you should add to your weekend rotation. Roll up your sleeves and unbutton your shirt, we have everything you need to nail the off-duty look.
We've put together a few outfit combos with what you'll need for a dinner date to a lazy sunday spent at the pub and everything in-between.
We're thinking of a movie marathon on the couch, walking to the local park, maybe even a sneaky gym sesh.
How Can I Look Stylish But Casual?
The key to rocking this athleisure look is finding clothes that are comfortable, versatile and fit well. A long sleeve crew sweat and cotton lounge pants will give you the laid-back aesthetic you're after. Top the look off with a logo cap.
Hot Date? Check! Dinner reservations? Check! Outfit sorted? umm...
Dressing for a date can be nerve racking as you want to make a good impression. It's important to find an outfit that is comfortable and one you can wear with confidence.
What Should A Guy Wear On A Saturday Night?
The key to dressing for the evening is looking smart while still maintaining an air of casualness. You can't go wrong with a classic striped shirt (unbuttoned of course!) and a pair of slim chinos. Finish the look with a pair of crisp sneakers!
If you are anything like me, the weekend is full of eating delicious food and exploring new places. Whether grabbing a bite with friends or attending a birthday luncheon, you'll want an outfit that is put together but can handle the "sunny table" outdoors.
What Should A Guy Wear On A Saturday Night?
Easy, the linen shirt! This breezy material may not be well equipped for the Antarctic-level office aircon, but it has its place on a warm summer weekend. Wear it unbuttoned with a crisp white tee and pair of slim fit chino shorts.
When the warm weather rolls around you'll probably find yourself on the invite list to a BBQ or two. While these casual gatherings are fun, you'll want to find an outfit that is cool, comfortable and still looks put together.
This is the perfect time to get out the fun summer prints and move away from the boring office neutrals! Throw on a lightweight palm print shirt, a pair of cotton-elastane chinos (in case the backyard cricket comes out) and casual sneakers or loafers.
5 Tips For Weekend-Ready Style:
Always style comfortable outfits—keep those itchy button-ups for the office!

If in doubt, go for minimal outfit combos to keep it simple.

A pair of crisp white sneakers is a weekend must!

Your boss isn't around... untuck that shirt!

A graphic tee will look great with denim or chinos.
Shop AM Supply today for everything you need to help you switch into relaxation mode.