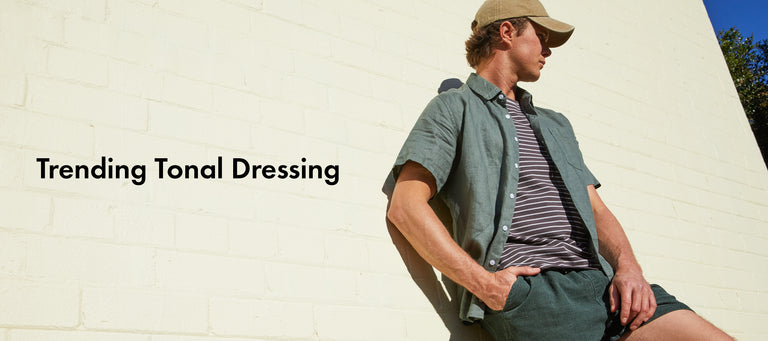 Trending: Tonal Dressing
Posted by Jintao Du on
The trend taking over the season. Tonal dressing is an easy way to effortlessly look polished and refined no matter where you're heading. So simple to construct, your ensembles will look as if you put in hours of thought when in actual fact, it takes about a minute!
What Is Tonal Dressing?
Tonal dressing is all about putting together an outfit made from pieces of the same colour family. We're talking head to toe in different shades of the same colour. The exciting thing with tonal dressing is that you can play around with textures and shapes to introduce a more unique and exciting edge to your outfits.
How Do I Approach Tonal Dressing?
No need to be intimidated by it! It's as simple as picking out foundation pieces of similar shades. We've put together some tonal outfits for you so that you can become a master of the trend. You'll look polished and pulled together in no time.
Play With Shades Of The Same Hue
A super easy way of putting a tonal outfit together is just by looking for similar colours. Check out how easy this ensemble is below.
If you're ready to up your outfit to the next level, then you'll want to start introducing texture. By mixing different patterns, fabrics, textures and silhouettes, you'll inject a dose of minimalist edge into your outfit that's effortlessly cool. Whether it's some cord shorts with a jersey tee, or a linen shirt and chino pants, your options are endless. Check out our outfit below.
If you're not ready to step out dressed in all green giving off total Shrek vibes, we totally understand. Our top tip with tonal dressing is to have one element of your outfit in a neutral colour. Take this outfit below for example. We've styled two shades of green with our natural toned Kaleb shorts to break it all up. Easy!
Don't feel like doing much thinking when it comes to putting together your tonal 'fit? Why not grab a piece that does it already for you. Our favourite way is grabbing a striped shirt with a tonal colourway. This season, blue is totally in and in our opinion, there's nothing more suitable for the Aussie summer! Here's how we'd style a striped button up. Pop it unbuttoned over a white tee like the printed crew neck here, and finish with a pair of navy chino shorts.