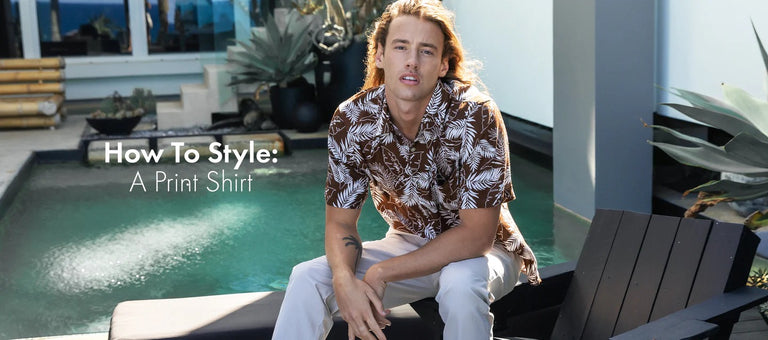 How To Style: A Print Shirt
Posted by Jintao Du on
Yes, we're talking full on florals, flamboyant colours and unique patterns. But there's no need to feel intimidated by such statement pieces of clothing. In fact, it'll probably see you getting flooded with compliments if you sport them the correct way. Luckily for you, we're here to help.
How Do I Pick a Print Shirt?
There's a few tricks to keep in mind when venturing out into the print world. You'll want something that seamlessly fits into your wardrobe style already. Here's what you should be looking out for.
- Look for complimentary colours to your wardrobe
- Opt for khaki, blue's, black and other neutrals to begin
- Choose cooler patterns, like plants or birds. Stay away from novelty shirts
- Go for quality fabrics like linen or cotton
- For a relaxed look, size up!
How Do I Wear A Print Shirt?
Print shirts are more versatile than you think. Whether you're pairing it with some chino shorts and boat shoes at a rooftop bar, beachside with your shorts or even tucked into a suit for a more smart casual vibe, you'll be reaching for it more often than you think.
Making Prints Smart Casual
Like we said, we love wearing bold button ups for fancier occasions. For a total LA celeb look, opt for a shirt like the Camden Leaf Print Short Sleeve. Tuck into a pair of tailored trousers and unbutton it down a third of the way.
Print Shirts For the Beach
There's nothing better to sport in summer than a breezy print shirt. So effortless and sleek, it'll have you arriving in style every time. Choose something like the Riley Shirt to wear over your swim shorts.
If you're going for a cheeky Sunday session, then pair with the Kaleb Chino Shorts and finish with white sneakers. The shirt will do all the talking for you.
How Do I Style Print Shirts for a Date?
So you're feeling the pressure to impress. We suggest going for a more subtle print shirt like the Evan Stripe Oxford Shirt. Style them with the Ethan Slim Chino Pants for a simply stylish look. Cuff the hem of your pants and wear clean white sneakers.
Our Tips For Print Shirts
How Should My Print Shirt Fit?
That's completely up to you. Depending on the occasion, you can opt for a slim and structured fit or an oversized look. If you're wearing it fancy, go for a straight or vented hem you can tuck easily.
What goes with a Print Shirt?
Keep it basic. Since a printed shirt is a statement of its own, always pair with neutral bottoms. Pieces like beige chinos or black shorts are a fail-safe option.
What Ways Can I Wear A Button Up Print Shirt?
So versatile, we love wearing our button up print shirts open over a basic tee. Grab a white t-shirt and pop on a more oversized print shirt for a relaxed look. Finish with beige chino shorts.
For all these looks and much more, visit AM Supply.