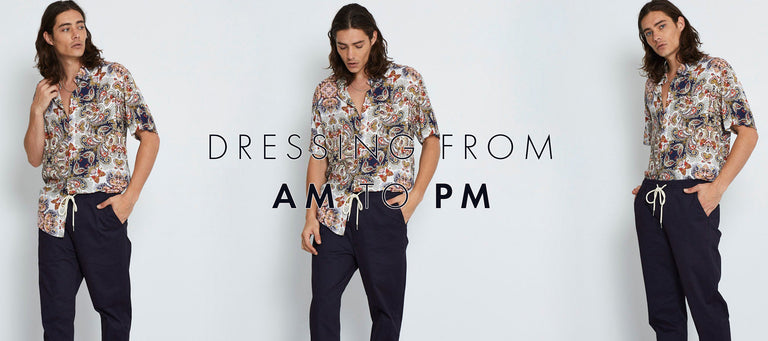 Dressing From AM to PM
Posted by Jintao Du on
So you've got drinks with some of the boys to get to after work on a Friday, or mum's fancy birthday lunch right before a night out. You need an outfit that will work to impress from AM to PM, and we're here to tell you it's not too hard to nail.
With a set of foundation pieces, you don't need to think too hard when it comes to putting together an outfit that easily transitions from desk to drinks, surf to sunset drinks or dinner to date. Here's an edit we've put together to make AM to PM dressing easy.
Theres nothing more preppy than a polo shirt. Whether you're donning it at work, at a bar or on a first date, it looks effortlessly put together when styled right.
For a look that can easily go from day to night, just pair a neutral polo shirt with a pair of chino pants. To make it a little more casual, opt for shorts and sneakers.
A really easy styling trick that seamlessly transitions you from day to night is to layer. Start off with a basic tee as you foundation. Pop over a button up shirt and keep it open.
From there, you can either choose to make your 'fit more casual and ditch the button up, or make it more preppy and ditch the t-shirt. Just pop on a pair of chinos and sneakers to finish your look.
Pop it over a basic white tee and a pair of beige chinos for a tonal and sleek look. Finish with a pair of loafers or clean white sneakers.
Shop all these looks and more on AM Supply now.