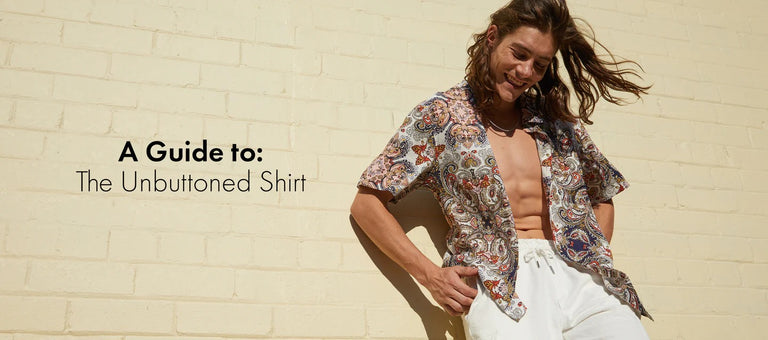 A Guide To: The Unbuttoned Shirt
Posted by Jintao Du on
The new heatwave friendly way of styling.
This season, we're seeing men dare to bare. With the sun coming out and days stretching longer, a sleek outfit is not executed through the presence of more clothing, but rather, the absence of it.
A styling accessory in itself, opting to unbutton your shirt can radiate a whole new aura. Just take a look at Mick Jagger and his barely buttoned printed silk shirts. Now donned by the likes of Harry Styles, Russell Westbrook, Ed Westwick and more, it's a more sultry, modern take to dressing. We're now seeing men take on this trend and flaunt their chest from day sessions at a rooftop bar to when they suit up for weddings.
How Do I Wear An Unbuttoned Shirt?
There's generally a rule of thumb that says to never go further than the first two buttons down. The thing is, we've never been a fan of following rules anyway. Rebel against the norm and rock your shirt as open as you want.
Styling The Unbuttoned Shirt
There's so many different takes on the unbuttoned shirt. Whether you're looking to flaunt a classic linen long-sleeve or a patterned satin number, different occasions call for how skin-heavy you should go.
So you're heading down to the pub to end the work week or meeting up with some boys for a spontaneous Sunday sesh on a warm day. Wherever it is you're going, you can't go wrong with a short-sleeve print button up. Pop the first three buttons open and style with some cream chino shorts. Finish your look with clean white sneakers and some classic rectangle sunnies.
From birthdays to Valentine's to weddings, you're going to want to scrub up well. That's where your go-to linen long-sleeve comes into play. Style it tucked into some beige tailored pants. Pop the first two buttons open for an elegant touch and accessorise with a minimal silver necklace. Finish the look with a pair of tan loafers, your favourite watch and some aviator sunglasses.
If it's a day of just running errands but you still want to look cool (you never know who you could run into), then opt for your short sleeve linen shirt. Anything from white, cream, khaki, dusty blue or pink makes for a perfect choice this season. Unbutton it about half way and stack on some necklaces. We're talking three or four for that rockstar vibe. Finish with a pair of loose-fit denim and sneakers.
Shop all these looks and more on AM Supply now.