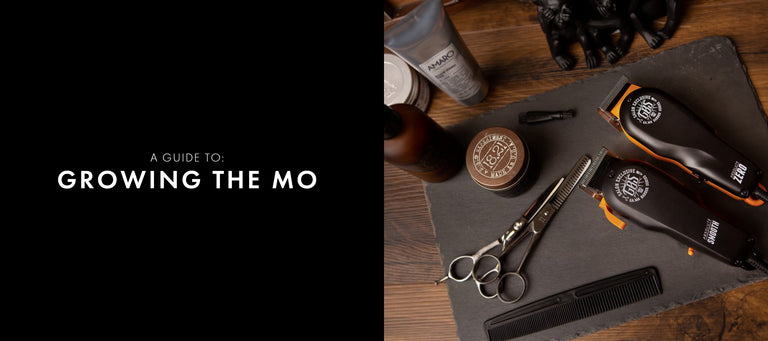 A Guide To: Growing The Mo
Posted by Jintao Du on
Whether you're growing it out for Movember or just wanting to hop on the ever so popular trend, there has never been a time like now where every Aussie guy is rocking a moustache. The thing is, a well-groomed moustache can really be an accessory in itself. So, we've decided to hand out our tips when it comes to adding a dose to your allure.
Look, we all want to rock a super cool Hulk Hogan look, but sometimes, you have to acknowledge your limits. The great news? There's plenty of moustache looks to pick from that can suit your hair growing capabilities (and yes, we're even talking about those light wisps on your upper lip).
One of our favourite ways to get some inspo is to check out some of the best male celebs donning a mo right now. A quick Google search of 'celebrity moustache' will provide you with a whole inspiration board of styles to pick from. Whether you're trying to get that subtle and sparse Justin Bieber look or the alluring lumberjack vibe that Zac Efron gives off, doing some quick research, especially with celebrities that you resemble, is a great place to start. Us? We're totally digging the Michael B Jordan mo-and-goatee look.
Look, we know there isn't anything more annoying than growing out a beard or mo, but you have to fight through this one. For about the first week, you're going to be really irritated but just think about that sexy mo all the boys will be jealous over. If it's really getting to you, opt to pop in some conditioner while you're in the shower and leave it in for a few minutes.
Now that you've got something to work with, it's time to get your mo looking clean and sharp. Most shavers that you probably already own come with interchangeable heads or attachments. Otherwise, a good old trimmer will do the trick. Use a fine detailing attachment to trim your moustache down to the preferred length. Then, grab some moustache scissors and snip away any strays for a clean look (remember to point the end upwards and not down into your lip!)
Now, all that's left to do is look after your precious moustache. One of our favourite products is beard oil. Since a mo can get very thick and bristly, you'll want to soften the look. This will also help with not irritating your skin (or anyone else's). Keep them soft and pop in a few drops of beard oil every morning.